PENGARUH KEBERADAAN OYO DAN REDDOORZ TERHADAP OCCUPANCY HOTEL HARPER WAHID HASYIM MEDAN
Nirwaty Tarigan

Akademi Pariwisata dan Perhotelan Darma Agung
Keywords:
Occupancy, room rate, facilities
Abstract
In a tourism indusrty, especially those engaged in  the hotel business, the tearm called occupancy, which means more or less the occupancy rate of hotel rooms. Room occupancy rate is expressed as a percentage of tha ratio of rooms sold compared to the total available hotel rooms or the total number of rooms that can be sold. The research method used is field research, namely the researcher goes directly to the field and makes observations, library research, namely by collecting data through books and references that are relevant to the title that has been proposed. The result was the existenced of OYO and RedDrooz influenced occupancy of Harper Wahid Hasyim Hotel Medan due to OYO and RedDrooz can give the good facilities and best price than Harper Wahid Hasyim Hotel Medan. As for the suggestion, the hotel management reduce the room rate, improve service quality and provide a employees hotel training in order they are able to compete with OYO and RedDrooz.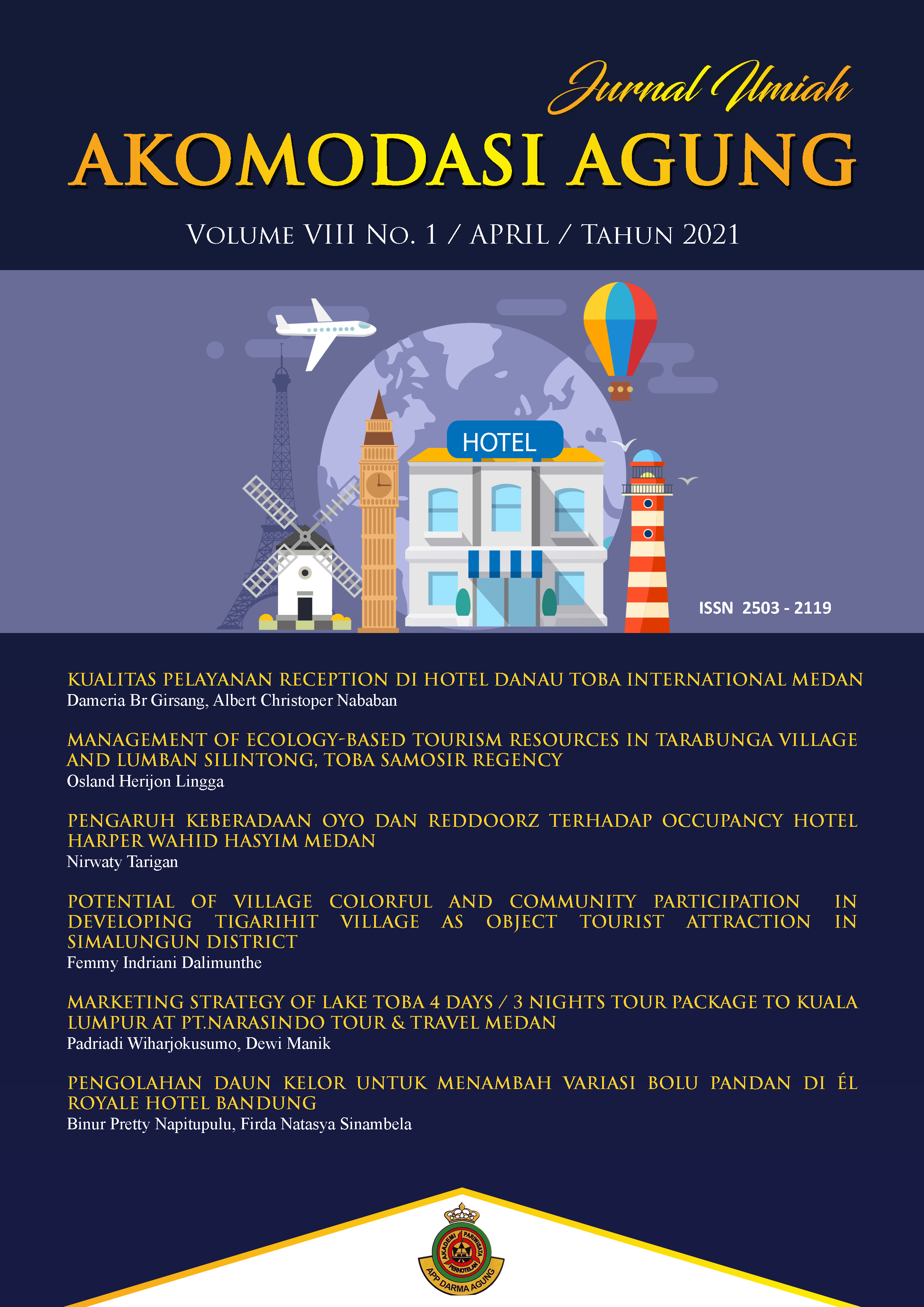 How to Cite
[1]
N. Tarigan, "PENGARUH KEBERADAAN OYO DAN REDDOORZ TERHADAP OCCUPANCY HOTEL HARPER WAHID HASYIM MEDAN", JIAA, vol. 8, no. 1, Apr. 2021.